Expecting lots of snow! That is what we are craving when we think about the next winter. We tend to believe that winter happiness and our skiing satisfaction depends entirely on the amount of snow we'll get.
As a consequence, prior to each winter, we are desperately looking for signs that support the prophecies of abundant snow falls to come. The displayed pic was posted by the ÖAV (Austrian Alpine Association) on August 28, 2018. It shows one of the first substantial snowfalls in the 2nd half of 2018. An incredible 50cm of fresh at 2000m altitude somewhere in the ` Hohe Tauern´ range! Wow!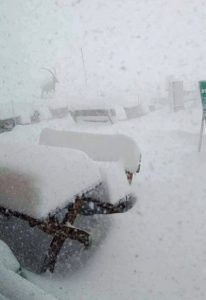 But is this a clear indicator for lots of snow next winter? Does it mean that Meribel, the 3 Valleys and the rest of the alps will be hit by mega storms again? It sure doesn't, but it definitely looks pretty and lets us snow lovers cheer!
The truth is that all my life, my winter excitement and skiing enthusiasm was influenced by the amount of fresh snow falling. Waking up to the muffled sound of footsteps in fresh snow. Or to a car engine hardly audible, because of the sound reducing effect snow has on the environment, this makes getting out of bed easy! Whereas a dripping roof gutter in the morning makes you want to turn around and cry.
But another truth is something I've learned again and again throughout countless winters. You can enjoy skiing no matter if you are doing it on a 50 or 250 cm snowpack! Looking back, I would have difficulties to connect the most memorable runs to the winter seasons with the biggest snowfalls. Dream runs can happen anytime, in any conditions! Their existence is more likely down to our ability of finding the right flow while giving into the game with gravity!
So let us just look forward to the coming of a new winter and all the fascinating changes that come along!
do it in the snow…  T